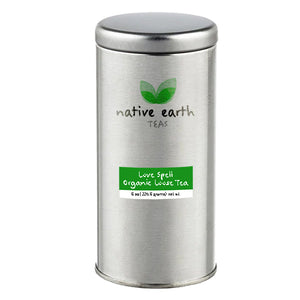 Description: A calming and delightful fusion of organic chamomile, rosehips, rose petals, lavender buds and organic chamomile tea hand blended together with a dash of pink peppercorn. Smooth and earthy flavor notes. Caffeine free. 
Ingredients: Chamomile Tea*, Lavender Buds*, Rose Petals*, Rosehips*, Pink Peppercorns*(**)
Origin: USA
Method of Use: Food Grade 
Serving Size: Add 1 tsp for every 8 oz of water. 
Water Temperature: 206 F 
Steep Time: 3-5 mins 
*Organic 
**This product contains the following allergenic ingredient(s): Tree nuts, Pink peppercorns
Warning: This tea blend contains ingredients (rosehips) that are not considered suitable for those who are pregnant or planning to become pregnant. Please consult your physician before use. 

Source Information: Your tea blends have been carefully selected from an award winning American tea importer that strives to provide the highest quality organic and specialty teas made with freshly dried tea leaves and botanicals from around the globe. Each batch has been hand sifted with high quality dried ingredients to create bold and unique flavor profiles. 
Disclaimer: Please note that all sales are final. No refunds or replacements will be issued for any Native Earth or Bulk Salves transactions.

Orders for infusions, tinctures and other custom products manufactured in-house (excluding bulk salves) may be canceled within 48 hours of ordering for a refund, withholding a non-refundable 4% transaction fee.