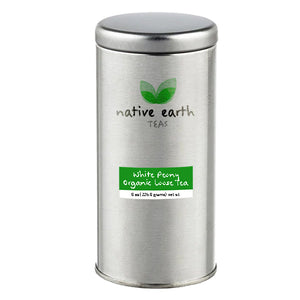 Description: This organic white peony tea is only harvested for a few weeks each year in the northern district of Fujian, China. This Chinese white tea is handpicked and has many buds resulting in a fresher and sweeter taste than most white teas. Delicate, fresh and sweet flavor notes. Medium caffeination.
Ingredients: White Tea* 
Origin: China
Method of Use: Food Grade 
Serving Size: Add 1 tbsp for every 8 oz of water. 
Water Temperature: 206 F 
Steep Time: 5-7 mins 
*Organic 
Source Information: Your tea blends have been carefully selected from an award winning American tea importer that strives to provide the highest quality organic and specialty teas made with freshly dried tea leaves and botanicals from around the globe. Each batch has been hand sifted with high quality dried ingredients to create bold and unique flavor profiles. 
Disclaimer: Please note that all sales are final. No refunds or replacements will be issued for any Native Earth or Bulk Salves transactions.

Orders for infusions, tinctures and other custom products manufactured in-house (excluding bulk salves) may be canceled within 48 hours of ordering for a refund, withholding a non-refundable 4% transaction fee.